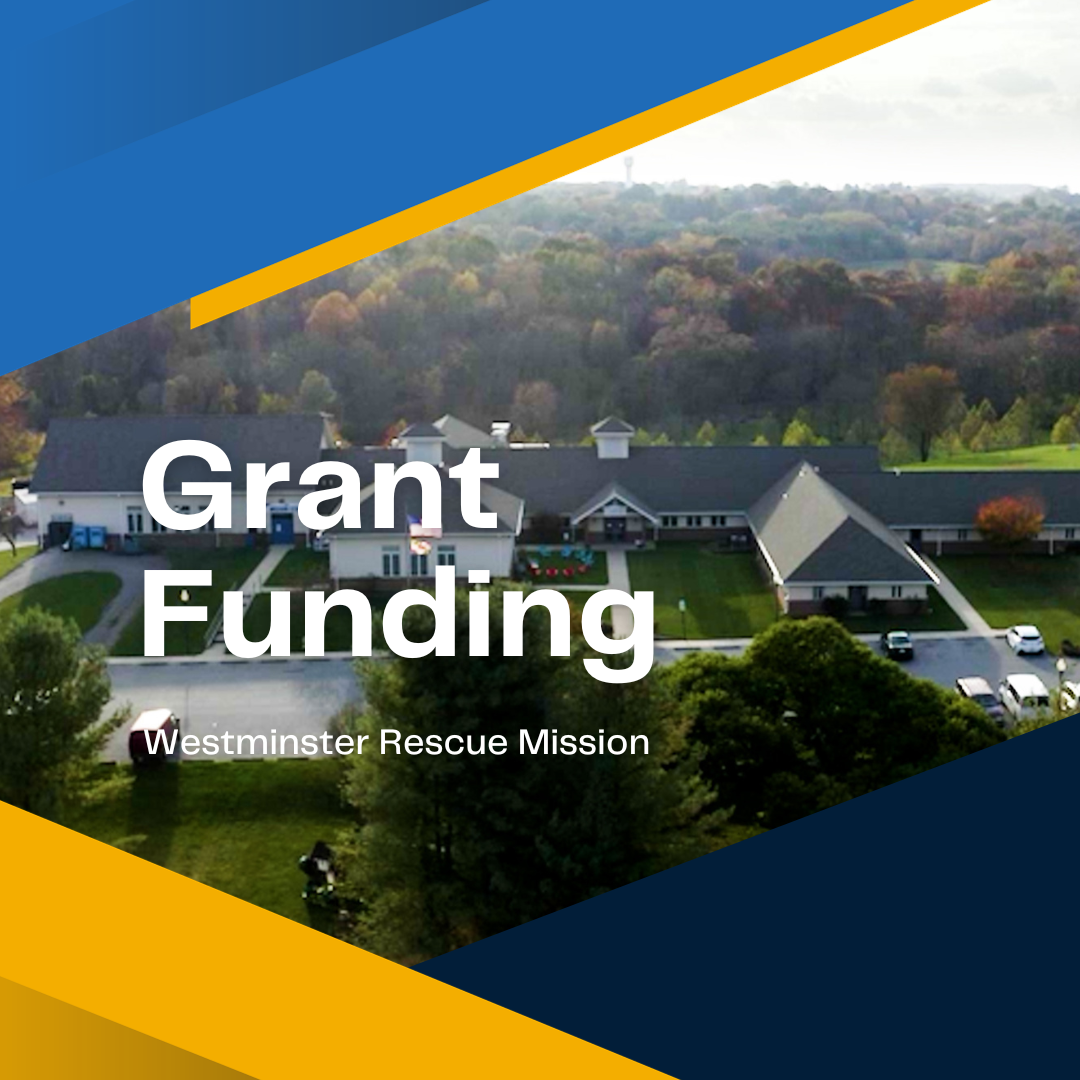 Greetings, Dear Friends and Supporters of Westminster Rescue Mission,
We are elated to share some exciting news with you all. Over the past few months, we have been fortunate to secure several grants that will undoubtedly propel us forward in our mission to serve the community and address the root causes of food insecurity, addiction, and much more. These grants represent a renewed sense of hope and purpose for our organization, and we cannot wait to see the positive impact they will have on our community.
1. Hunger HotSpot Grant – Maryland Food Bank, June 2023 ($84,000)
In June 2023, the Maryland Food Bank awarded us the Hunger HotSpot Grant, providing us with $84,000 to hire a full-time Volunteer Coordinator to recruit and manage the volunteers essential for our expanding Mission Food Program. We are delighted to introduce you to our new Engagement Manager, Trish St. Michel, who joined our team in September to fill this vital role. With Trish's guidance, we are confident that our programs will reach new heights.
2. Neighbor Impact Grant – Maryland Food Bank, September 2023 ($100,000)
September brought another significant blessing in the form of the Neighbor Impact Grant, also generously awarded by the Maryland Food Bank. This grant was part of a program to support organizations with innovative projects addressing the root causes of food insecurity in Maryland. We are honored to be one of the six organizations selected for this prestigious grant, which has provided us with $100,000. With this funding, we look forward to exploring groundbreaking solutions to combat food insecurity in our community.
3. FY24 Competitive Grant Program – Opioid Operational Command Center, July 2023 ($289,670)
Our commitment to helping those struggling with addiction has been further reinforced by the FY24 Competitive Grant Program from the Opioid Operational Command Center. This substantial grant, amounting to $289,670, will bolster the expansion of our Addiction Healing Center. These funds will be used to support the salaries of our clinical staff, CARF certification, state licensures, professional development, and the procurement of essential equipment and supplies. We are determined to provide the best care and support to those on their journey to recovery.
4. Carroll County Community Services Council Grant, April 2023 ($1,000)
In April 2023, we received a generous grant of $1,000 from the Carroll County Community Services Council. This grant will be directed towards the enhancement of our Mission's Chicken Coop, which will further our self-sustainability initiatives, ensuring a steady supply of fresh, nutritious food for those in need.
5. Emergency Food and Shelter Program Grant, March 2023 ($3,000)
We were also fortunate to secure $3,000 in grant funding from the Emergency Food and Shelter Program in March 2023. This support will enable us to acquire the necessary equipment and supplies for our kitchen, ensuring that we can continue to provide nutritious meals to those seeking our assistance.
6. ACCESS Grant Renewal – Maryland Department of Health, July 2023 ($94,920)
Last but certainly not least, the Maryland Department of Health renewed their commitment to us by providing a second year of funding for the ACCESS grant. This grant, amounting to $94,920, allows us to continue implementing our peer training program at the Addiction Healing Center, a vital component of our comprehensive approach to addiction recovery. This funding will sustain our efforts through June 30, 2024.
These grants are a testament to the unwavering support of our community and our partners in our mission to bring hope and healing to those in need. We are immensely grateful for the confidence and trust these organizations have shown in us. Rest assured, we will utilize these funds to make a lasting impact on the lives of those we serve.
Thank you for standing by us, and we look forward to sharing the many success stories that will undoubtedly emerge as a result of these generous grants. Together, we are making a difference in the lives of our neighbors in Westminster.
With heartfelt gratitude,
The Westminster Rescue Mission Team