Treatment Care Accountability
Westminster Rescue Mission is a 501c(3) charity that operates under highest standards of treatment care and accountability as shown by our accreditation through CARF and state licensure.
State Licensure - Maryland Behavioral Health Administration
Licensed Level 3.1American Society of Addiction Medicine (ASAM) programs offer at least five hours per week of low intensity Substance Use Disorder (SUD) treatment. Treatment includes individual, group and family therapy, medical primary care, medication management, and psychoeducation The services facilitate the application of recovery skills, relapse prevention and emotional coping strategies.
Learn more about Maryland Behavioral Health Administration
Commission on Accreditation of Rehabilitation Facilities (CARF)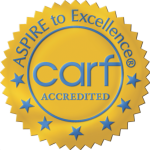 A CARF Three-Year Accreditation has been awarded to Addiction Healing Center for the following programs:
Community Housing- Alcohol and Other Drugs/Addictions (Adults)
Outpatient Treatment: Alcohol and Other Drugs/Addictions (Adults)
This accreditation decision represents the highest level of accreditation that can be given to an organization and shows the organization's substantial conformance to the CARF standards. An organization receiving a Three-Year Accreditation has put itself through a rigorous peer review process. It has demonstrated to a team of surveyors during an on-site visit its commitment to offering programs and services that are measurable, accountable, and of the highest quality.
CARF is an independent, nonprofit accrediting body whose mission is to promote the quality, value, and optimal outcomes of services through a consultative accreditation process and continuous improvement services that center on enhancing the lives of the persons served. Founded in 1966 as the Commission on Accreditation of Rehabilitation Facilities, and now known as CARF International, the accrediting body establishes consumer-focused standards to help organizations measure and improve the quality of their programs and services. For more information about the accreditation process, please visit the CARF website at www.carf.org.