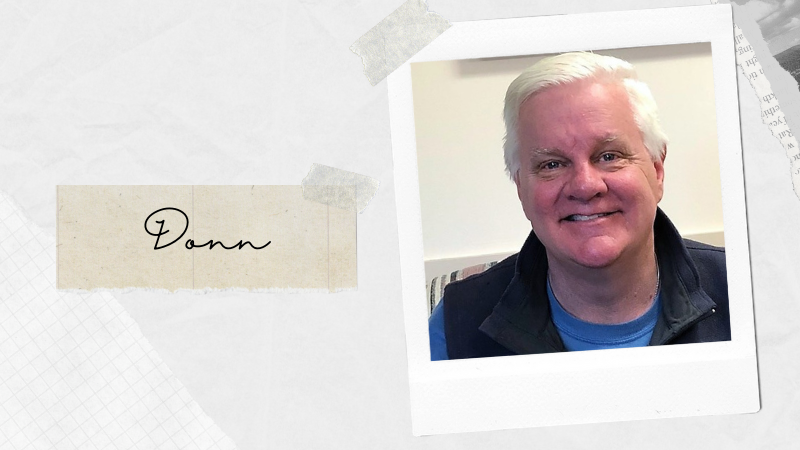 I was born in 1959, the youngest of 4 and the only boy. My father was an alcoholic, and my mother did all she could to hold it all together raising 4 kids. I am a fourth-generation alcoholic, all men on my father's side. I swore I would never be like him!
In high school, I found pot, music, and alcohol. In college I continued the same patterns –it was all about having fun. I believed in God, but it was something that could wait.
After 27 years of working for the same employer, the recession took its toll on the economy. They said they couldn't afford the position anymore; I got some severance pay and left. I was bitter.
Life started to derail at a rapid pace. The work environment became toxic; the marriage was struggling… I was still trying to fix others instead of working on myself. I was white knuckling my entire life!
After two totaled cars in 15 months where I ended up in shock trauma, I knew I needed help. Did God save me for a purpose? This was my bottom… I was POWERLESS!
Still hurting from my July accident and with a sling on my arm, I entered the Westminster Rescue Mission. In the span of a couple of days, I went from a beautiful house, nice car, 33-year marriage, what looked like a perfect, worldly life…. to a Rescue Mission. I needed God and a place where I could heal and figure out why and how my life went to sideways.
So, I started the 9-month journey of recovery.
What did I find at the Mission?
The AC was broken, it was July. I shared a 10×10 cube with another client and a dorm and a bathroom with 24 other men. After my 30-day blackout period my family asked me what it was like. I told them it was 1/3 monastery, 1/3 minimum security prison… lots of rules and 1/3 college dorm without the beer.
After 3 weeks at the Mission, I received by certified mail separation papers from my wife's lawyer. By this time, I knew it was all in God's hands. I couldn't fix anything anymore…I surrendered!
At the Mission I found compassionate people and lots of God centered activities. I learned what I was truly lacking in my life –a one on one relation relationship with my Lord and Savior.
I believe addiction is an idle issue. If I am in active addiction, I am putting my addiction before all things… including God.
"I am now letting God steer the boat. God gave me a second chance, it is a journey, and I am not there yet but I am not in the right seat, not the one with the steering wheel, now I just have to stay out of the way and be obedient."